In order to interpret the study results of "Comparative study of high and low intensity percutaneous electrolysis in patellar tendinopathy.", Javier Herraiz Garvín, teaching and research Coordinator of EPTE® team, has conducted an updated bibliography review in relation to the therapeutic management of tendon and how to evaluate changes produced by therapy in such structure measured with imaging techniques.
Such discussion has been performed from a constructive point of view and intending to give answer to some questions arose in our daily practice and giving the chance to build up a discussion an scientific development forum.
In table 1, final conclusions from the analysis are brought forward within this box:
Tabla 1. Final Conclusion 
In order to reach up these conclusions, there is need to analyze and give answer to the following questions:
What changes take place over tissue after a therapeutic intervention?
Is there relation between such changes over tissue and patient's clinical symptoms?
What is the conventional ultrasound capacity to visualize changes over tissue in short/mid term?
1. What changes take place over tissue after a therapeutic intervention?
For that purpose, in first place, we analyze changes and/or adaptations that are produced within the tendon structure to one of the most investigated stimulus: LOAD.
Tendon is a structure that responds to different loading regimes.
Load must be progressive upwardly.
Load magnitude is more important than type of contraction.
Tissue adaptations to this load are produced through modification in mechanical properties (STIFFNESS), mediated by changes in its material (Young's module value) and changes in tendon morphology (CSA value).
However, changes in STIFFNESS are found to be related mainly to adaptations that take place in its material MORE than changes in relation to its morphology (CSA).
Reference list:
In this examined study, it is pointed out that:
"Application mode with high intensities generate greater changes over the stimulated area, associated to a tendon regeneration"
A change in CSA only involves a reaction on the paratenon or tendon outer connective tissue layers, NO statement can be settled with a correlation between an area modification and an enhancement of elastic properties of tendon and, henceforth, a higher amount of regenerated tissue.
At this moment, a new question arises:
2. Is there relation between such changes over tissue and patient's clinical symptoms?
What literature says:
Changes in tendon structure DO NOT explain the response to therapeutic exercise.
Treatment evaluation must be guided by clinical exploration and patient´s perception rather than isolated visual changes in imaging techniques.
Structural alteration is another risk factor for the injury onset.
In case of Achilles and patellar tendon, injury risk is 5 times higher.
Reference list:
Down below, different studies are reviewed with the intention to find a correlation between clinical improvement and changes in the analysis of imaging techniques after the application of one of the most studied treatments up to now: Alfredson eccentric exercise protocol for Achilles tendon body.
By these means, questions 2 and 3 will be answered.
3. What is the conventional ultrasound capacity to visualize changes over tissue in short/mid term?
As analyzed previously, the vast majority of adaptations generated in tissue that also improve STIFFNESS will be given by changes in the tissue elastic properties, rather than modifications in relation to its area.
Tendon CSA is easily quantifiable via conventional US (Ultrasound), but to objectively visualize or at least the way has been performed in this study is another issue. The most correct manner to measure the material mechanical properties is by measuring Young's module.
In order to be able to quantify this issue, ideally, other diagnostic imaging devices like Shearwave Sonoelastography should be used (it is paving its way in the application over musculoskeletal tissue) or tissue characterization by UTC ultrasonography (http://utcimaging.com/human/).
The following study is discussed where an eccentric exercise program was applied to a group of subjects with Achilles tendon body tendinopathy. Apart from the structural assessment by UTC, the variable analyzed were the present results in a pain scale assessment and VISA-A (Victorian Institute of Sport Assessment-Achilles) function scale. Image 1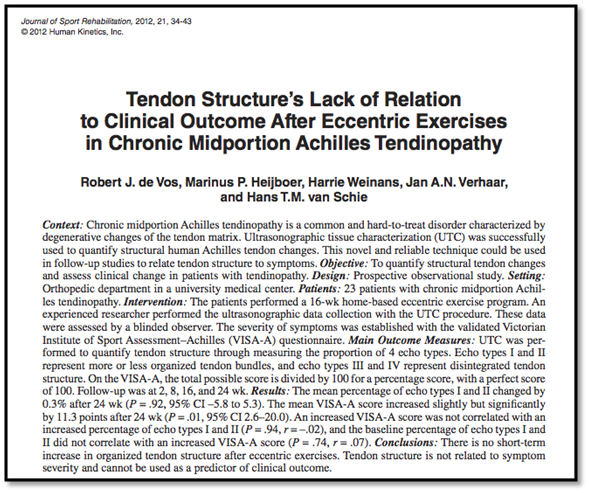 Imagen 1. Vos, Robert J. de, Marinus P. Heijboer, Harrie Weinans, A. N. Verhaar J, and T. M. van Schie J. "Tendon Structure's Lack of Relation to Clinical Outcome after Eccentric Exercises in Chronic Midportion Achilles Tendinopathy." Journal of Sport Rehabilitation 21, no. 1 (February 2012): 34–43.
So far, both the effects of tendon load and how modifications in tendon mechanical properties can be visualized have been described in detail. Next paper to discuss is the one that shows the results derived from the implementation of an invasive technique (scraping and excision of plantaris tendon) in patients with Achilles tendon body injury and its ensuing analysis of results with UTC and VISA-A. Image 2.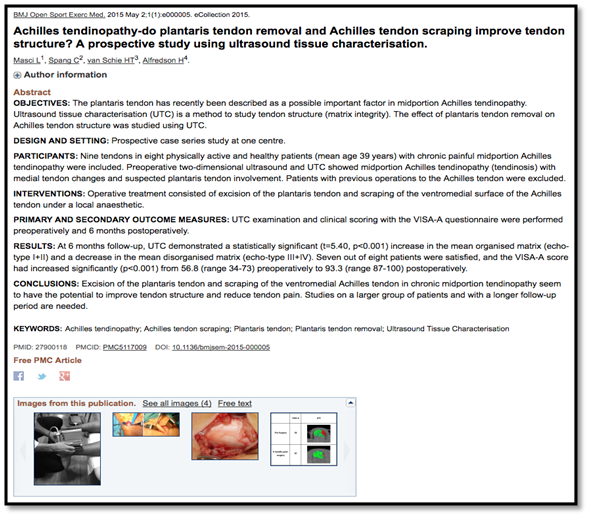 Imagen 2. Masci L, Spang C, van Schie HTM, et al, Achilles tendinopathy—do plantaris tendon removal and Achilles tendon scraping improve tendon structure? A prospective study using ultrasound tissue characterisation. BMJ Open Sport & Exercise Medicine 2015;1:e000005. doi: 10.1136/bmjsem-2015-000005
References list:
Khan, K. M., and A. Scott. "Mechanotherapy: How Physical Therapists' Prescription of Exercise Promotes Tissue Repair." British Journal of Sports Medicine 43, no. 4 (April 1, 2009): 247–52.
Bohm, Sebastian, Falk Mersmann, and Adamantios Arampatzis. "Human Tendon Adaptation in Response to Mechanical Loading: A Systematic Review and Meta-Analysis of Exercise Intervention Studies on Healthy Adults." Sports Medicine – Open 1, no. 1 (December 2015): 7.
Drew, Benjamin T., Toby O. Smith, Chris Littlewood, and Ben Sturrock. "Do Structural Changes (eg, Collagen/matrix) Explain the Response to Therapeutic Exercises in Tendinopathy: A Systematic Review." British Journal of Sports Medicine 48, no. 12 (June 2014): 966–72.
Cook, J. L., E. Rio, C. R. Purdam, and S. I. Docking. "Revisiting the Continuum Model of Tendon Pathology: What Is Its Merit in Clinical Practice and Research?" British Journal of Sports Medicine 50, no. 19 (October 2016): 1187–91.
Vos, Robert J. de, Marinus P. Heijboer, Harrie Weinans, A. N. Verhaar J, and T. M. van Schie J. "Tendon Structure's Lack of Relation to Clinical Outcome after Eccentric Exercises in Chronic Midportion Achilles Tendinopathy." Journal of Sport Rehabilitation 21, no. 1 (February 2012): 34–43.
Masci L, Spang C, van Schie HTM, et al, Achilles tendinopathy—do plantaris tendon removal and Achilles tendon scraping improve tendon structure? A prospective study using ultrasound tissue characterisation. BMJ Open Sport & Exercise Medicine 2015;1:e000005. doi: 10.1136/bmjsem-2015-000005