What is EPTE® Percutaneous Electrolysis?
More than 3.000 physiotherapists have already been trained in this technique, and there are around 2.500 EPTE® Official Centres all over the world.
Percutaneous Electrolysis Therapy EPTE® is an effective technique for tendon treatment. A low-intensity current is applied through an acupuncture needle to reach the damaged area of the tendon, causing damaged tissue to regenerate. Due to its low intensity, it is a virtually painless therapy.
There is some research about its effectiveness in healing certain structures. You can read more about the scientific evidence HERE.
Please, read this article to have further information about the Percutaneous Electrolysis Technique and its program.
Professor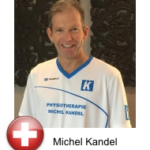 Price
550 CHF*
(*) This price includes course notes, participation diploma and access to all the necessary materials for the practical part.
Location & Contacts
21th and 22th June 2019
WBZ Emmenhof, Emmenhofallee 3, 4552 Derendingen
Language: German
info@wbz-emmenhof.ch or 032 682 33 22
EPTE® Switzerland Course Program
1. Tendon Anatomy and Biomechanics.
2. Paradigm Shift: Tendinitis vs Tendinosis.
3. Scientific Evidence of Physiotherapy in Tendinopathies.
4. The concept of Electrolysis: EPTE® Methodology.
4.1 What is Electrolysis?
4.2 Electrolysis Clinical Indications.
4.3 Electrolysis Contraindications.
4.4 EPTE® usage procedure.
5. Load Modulation.
6. EPTE® Therapy Agenda.
7. Patellar Tendinopathy.
7.1 Clinical characteristics
7.2 Clinical application of EPTE® in patellar tendinopathy.
7.3 Therapeutic exercises
8. Achilles Tendinopathy.
8.1 Clinical characteristics.
8.2 EPTE® clinical application in the Achilles tendon.
8.3 Therapeutic exercises for the Achilles tendon.
9. Plantar Fascia.
9.1 Clinical characteristics.
9.2 EPTE® clinical application in the plantar fascia.
9.3 Therapeutic exercises for the plantar fascia.
10. Supraspinatus Tendinopathy.
10.1 Clinical characteristics.
10.2 EPTE® clinical application on the supraspinatus.
10.3 Therapeutic exercises for the supraspinatus.
11. Epicondylar Tendinopathy.
11.1 Clinical characteristics.
11.2 EPTE® clinical application on the elbow epicondyle.
11.3 Therapeutic exercises for the wrist extensor muscles.